Integration of Functional Imaging, Cytometry, and Unbiased Proteomics Reveals New Features of Endothelial-to-Mesenchymal Transition in Ischemic Mitral Valve Regurgitation in Human Patients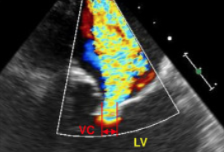 Lupieri A, Nagata Y, Passos LSA, Beker-Greene D, Kirkwood KA, Wylie-Sears J, Alvandi Z, Higashi H, Hung JW, Singh SA, Bischoff J, Levine RA, Aikawa E.
Front Cardiovasc Med. 2021 Aug 12;8:688396. PMID: 34458332. PMC8387660.