Multiomics of Tissue Extracellular Vesicles Identifies Unique Modulators of Atherosclerosis and Calcific Aortic Valve Stenosis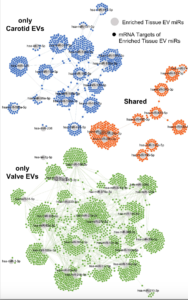 Blaser MC, Buffolo F, Halu A, Turner ME, Schlotter F, Higashi H, Pantano L, Clift CL, Saddic LA, Atkins SK, Rogers MA, Pham T, Vromman A, Shvartz E, Sukhova GK, Monticone S, Camussi G, Robson SC, Body SC, Muehlschlegel JD, Singh SA, Aikawa M, Aikawa E.
Circulation. 2023 Jul 10. PMID: 37427430.