PROX1 Inhibits PDGF-B Expression to Prevent Myxomatous Degeneration of Heart Valves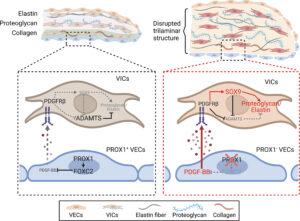 Ho YC, Geng X, O'Donnell A, Ibarrola J, Fernandez-Celis A, Varshney R,
Subramani K, Azartash-Namin ZJ, Kim J, Silasi R, Wylie-Sears J, Alvandi Z, Chen
L, Cha B, Chen H, Xia L, Zhou B, Lupu F, Burkhart HM, Aikawa E, Olson LE, Ahamed
J, López-Andrés N, Bischoff J, Yutzey KE, Srinivasan RS.
Circ Res. 2023 Aug 9. PMID: 37555328.